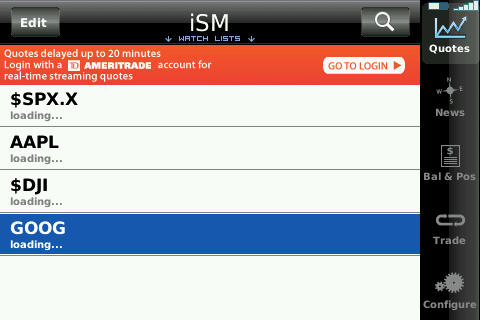 Tag:
8800 apps
iStockManage
Overview :
Model:
Blackberry 82XX Series (240x320) Pearl Flip Devices Models: 8200, 8220, 8230/Blackberry 8350i (320*240) Related Devices Model: 8500, 8520/Blackberry 83XX Series (320*240) Curve Devices Models: 8300, 8310, 8320, 8330 / Blackberry 87XX Series (320*240) Devices Models: 8700c, 8700r, 8700f, 8700g, 8703e, 8707, 8707g, 8707v .etc /Blackberry 88XX Series (320*240) Devices Models: 8800, 8820, 8830 .etc /Blackberry 89XX Curve Series (480*360): 8900(Javelin), 8910(Atlas)/Blackberry 90XX Bold (Onyx) Series (480*320) Devices Models: 9000, 9020(Onyx)/Blackberry 96XX Tour (Niagara) Series (480*360):9600, 9630, 9650(Tour2), 9700(Bold) /Blackberry 95XX Storm Series (360*480):9500, 9510, 9520, 9530, 9550(Storm2)
Description:
iStockManager gives you a secure, quick and simple access to your TD AMERITRADE account to place trades and check the stocks market while on the go.
You will have access to equity and option trading, streaming data, real time balances and positions, news and more right at your finger tips. Make trades or simply keep an eye on the market, iStockManager gives you the freedom, access and security you need to stay on top of your TD AMERITRADE account.
Features
* Fully integrated trading with TD AMERITRADE
* Real Time Streaming Quotes
* Streaming Charts
* Watchlists
* Level II quotes
* Option chains
* Market Data
* Trade Stocks & Options
* Order Status
* News
* Account information
* Balances and Positions