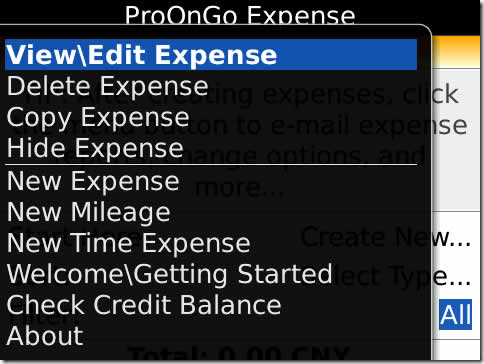 Tag:
9700 apps
ProOnGo
Expense
Overview :
Model:
Blackberry 8350i (320*240) Related Devices Model: 8500, 8520/Blackberry 89XX Curve Series (480*360): 8900(Javelin), 8910(Atlas)/Blackberry 90XX Bold (Onyx) Series (480*320) Devices Models: 9000, 9020(Onyx)/Blackberry 96XX Tour (Niagara) Series (480*360):9600, 9630, 9650(Tour2), 9700(Bold)
Description:
ProOnGo Expense is an award-winning expense tracking app that makes storing and managing your expenses easier. ProOnGo Expense is a simple way to keep track of your receipts, your mileage expenses and your time expenses.
NOTE: To ensure you get the right version for you phone, please visit ProOnGo(dot)com from your BlackBerry browser and follow the download links.
With ProOnGo Expense's Receipt Reader, just take a picture of your receipt with your phone's camera, then the app will extract the receipt amount, merchant name and the date and automatically generate an expense report based on the data.
When it's time to submit your expense report, export your expenses as an Excel spreadsheet, XML, Fax it to any number in North America, or sync your expense report with your QuickBooks Online Edition account.
ProOnGo Expense also tracks mileage and time expenses, converts currencies, sets recurring expenses and integrates with your phone's calendar and contacts.
Features:
Receipt Capture and Data Extraction
Reminders, built in to remind you to submit your report
Mileage Expense Tracker
Time Expense Tracker
*Optional* Receipt Reader service backs up receipts online
Integration with phone's camera
Receipt Image Editor allows for manipulation of receipts for privacy
Contact Integration adds contacts from phone to expenses to associate expenses with clients
Multiple Currencies and Exchange Rates support.
Recurring weekly or monthly expenses
Offline Mode in case you have no internet connection
Export to Excel, XML, CSV
Custom Expense Report Package for Businesses that exports reports in any organization's own expense report template - contact us for more details
QuickBooks Online Integration
Fax Support allows for expense reports to be sent straight from your phone to a fax machine