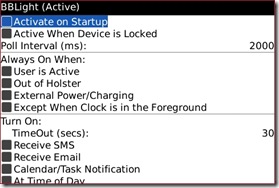 Tag:
BBLight
72xx apps
Overview :
Model:
Blackberry 72XX Series (240*160) Devices Models: 7200, 7210, 7230, 7250, 7270, 7280, 7290, 7510, 7520, 6510
Description:
BBLight is a freeware Blackberry Application which is especially handy on the Blackberry 7230 and Blackberry 7290, it gives you the possibility to activate the background light by a few parameters which can be chosen by the user:
Activate on startup: this needs to be set / activated in order to get the program (BBLight) to work.
Poll Interval (ms) this is how many milliseconds the program waits before it checks again if the light needs to be activated. Standard is 1000.
On user activity: activate bblight when the user uses the scroll wheel, or pushes a button on the blackberry.
On remove holster: activate bblight when the blackberry is removed from the holster.
On external power: activate bblight when the blackberry is being charged.
On time of the day: activate bblight on a certain time of the day
Duration (mins): how many minutes does the background light of the blackberry needs to be turned on before the background light turns off again.