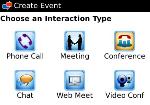 Tag:
Neatcall
Overview :
Description:
Neatcall's online meetings coordinator turns your BlackBerry to an office assistant. The NeatPhone is a personal mobile scheduling assistant that finds the optimal timeslot for any communication you would like to conduct with your contacts, directly from your BlackBerry. From one-on-one phone calls, face to face meetings and conference calls to chat rooms, web meetings and video conferencing, the NeatInvite app does all scheduling for you in a blink of an eye. No more time wasted playing mail and phone tags with endless emails, voicemails and phone calls.
Key Features:
* Scheduling all online and offline communications through one application.
* Offering several time slots and automatically selecting the optimal one.
* Unlimited events and unlimited number of invitees!
* FIRST TO MARKET: Multi messaging – you decide how to send invitations to your colleagues, by EMAIL, simple SMS, or WAP link.
* FIRST TO MARKET: Analyzing the responses content of all messaging formats.
* PATENT PENDING: Speed Mode Reply mechanism – picking optimal time slots in seconds.
* Four different scheduling situations: "Full Match" if all users pick the same time slot, "Best Match" if one time slot is picked by most invitees, "Equal Match" if there are more than two equal time slots and "No Match" when there is no selected time slot so you can offer new time slots.
Model:
Blackberry 72XX Series (240*160) Devices Models: 7200, 7210, 7230, 7250, 7270, 7280, 7290, 7510, 7520, 6510/Blackberry 71XX Series (240*260) Devices Models: 7100, 7110t, 7105t, 7100r, 7100v, 7100g, 7100x, 7100i, 7130e, 7130c, 7130g, 7130v/Blackberry 81XX Series (240*260) Pearl Devices Models: 8100, 8110, 8120, 8130/Blackberry 82XX Series (240x320) Pearl Flip Devices Models: 8200, 8220, 8230/Blackberry 8350i (320*240) Related Devices Model: 8500, 8520, 8530/Blackberry 83XX Series (320*240) Curve Devices Models: 8300, 8310, 8320, 8330 / Blackberry 87XX Series (320*240) Devices Models: 8700c, 8700r, 8700f, 8700g, 8703e, 8707, 8707g, 8707v .etc /Blackberry 88XX Series (320*240) Devices Models: 8800, 8820, 8830 .etc /Blackberry 89XX Curve Series (480*360): 8900(Javelin), 8910(Atlas)/Blackberry 90XX Bold (Onyx) Series (480*320) Devices Models: 9000, 9020(Onyx)/Blackberry 96XX Tour (Niagara) Series (480*360):9600, 9630, 9650(Tour2), 9700(Bold2) /Blackberry 95XX Storm Series (360*480):9500, 9510, 9520, 9530, 9550(Storm2)/Blackberry Pearl 3G Series (360*400) Devices Models: 9100, 9105