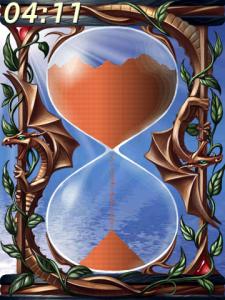 Tag:
9700 apps
Hourglass
Overview :
Hourglass v1.2.23 91,96,95,97 apps
Description:
This application emulates a real hourglass. Watch the grains of sand fall as you turn your BlackBerry Storm. If you lay your BlackBerry device on its side, the Hourglass will stop the timer just like a real hourglass stops. Turn your BlackBerry upside down and the timer will go back (decreasing time), in turn giving you the ability to have a true timer.
The hourglass has up to 20 different timers, with timing options ranging from 5 minutes to 60 hours. It is possible to choose a different sound file, background wallpaper, and sand color for each timer.
BlackBerry devices with a keyboard do not have an accelerometer, to turn the Hourglass press the trackball.
Features:
7 different background wallpapers.
Backlight control, turning the backlight on after a pre-set time interval, and before the timer elapses.
Model:
Blackberry Pearl 3G Series (360*400) Devices Models: 9100, 9105 / Blackberry 96XX Tour (Niagara) Series (480*360):9600, 9630, 9650(Tour2), 9700(Bold2) /Blackberry 95XX Storm Series (360*480):9500, 9510, 9520, 9530, 9550(Storm2)