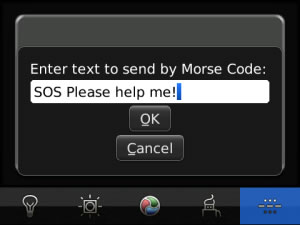 Tag:
Flashlight
8700 apps
Overview :
Flashlight Pro v1.0.57 (OS 4.6)
Description:
Turn your BlackBerry® smartphone into the ultimate light source for convenience, safety and entertainment with Flashlight Pro.
No other flashlight application for BlackBerry® is even remotely comparable to the functionality of Flashlight Pro. Flashlight Pro uses more light sources, has more color options and supports more special effects than any other BlackBerry® flashlight.
Choose your source of light as either one or a combination of:
the notification LED
the screen backlight, BRIGHTER
the camera flash, BRIGHTEST (System Software 5.0 or higher only).
Choose any color of light for both the notification LED and the screen backlight. You are not limited to one color or a limited selection of colors. Choose ANY color from the color palette for both the LED and the screen backlight.
Flashlight Pro has the widest variety of special lighting effects available for BlackBerry® as well. Choose from:
setting the LED and screen backlight to any color
strobe lighting (one color or changing colors)
displaying a candle flame
sending and listening to a message in Morse code (flashing light and audio too!)
Never worry about carrying a flashlight for finding your key or a keyhole in the dark. Enhance your safety and the safety of your family by always having a flashlight with you should the lights fail for any reason. Change your BlackBerry® into a strobe light entertainment centre with flashing colors at the push of a button. Hold up your e-lighter at concerts too.
You can configure Flashlight Pro to launch through a BlackBerry® convenience key such as the side button.
Don't take our word that this is a great app, try it for free with Flashlight Free Trial available from BlackBerry® App World.
Model:
Blackberry 82XX Series (240*320) Pearl Flip Devices Models: 8200, 8220, 8230/Blackberry 8350i (320*240) Related Devices Model: 8500, 8520, 8530, 9300(Kepler), 9330/Blackberry 83XX Series (320*240) Curve Devices Models: 8300, 8310, 8320, 8330 / Blackberry 87XX Series (320*240) Devices Models: 8700c, 8700r, 8700f, 8700g, 8703e, 8707, 8707g, 8707v .etc /Blackberry 88XX Series (320*240) Devices Models: 8800, 8820, 8830 .etc