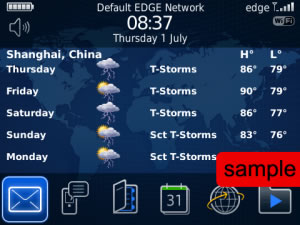 Tag:
Weather
weather apps
Overview :
Weather Plus v1.1.2 - blackberry weather apps

Description:
The most popular weather app - push weather info to homescreen and icon.
***Improved smooth updating function, much more choice of wallpaper, support calling system sample pictures, and a hot key "W" for launching as bonus. Retain all powerful functions previous!!!
PROMOTION:
FREE for a limited time, Write us an email to unlock it, INCLUDE YOUR PIN and Weather Plus in tittle.
We welcome your GREAT comments to help us improve this GREAT app.
Changelog in V1.2.1:
1. Improve network connection, updating more smooth;
2. Support selecting system sample pictures as wallpaper;
3. Launch with system starting, get accurate weather in time;
4. SMS weather info to your friends or family;
5. Support 9800 Torch with OS 6.0;
6. Fixed little bugs in previous version.
***Add an version control module this time!!! From now on, when there is an upgrade, you could check it in the menu of this app, and get download link.
Features:
1. Accurate weather info.
2. Multi cities support.
3. Auto updates weather info.
4. Five display mode for home screen.
5. Support icon display.
6. Search city by ZIP (US only).
7. Friendly UI design.
8. Life time free update.
Tips:
If you want to select system sample pictures as wallpaper, please go to your picture folder found out the picture and open, then press BlackBerry® key, in the pop-up, select 'Set as Weather Plus wallpaper'.
Guaranteed satisfaction:
If you find a bug, or have some feedback, kindly write us an email so we can make revision ASAP.
Model:
Blackberry 89XX Curve Series (480*360): 8900(Javelin), 8910(Atlas), 8930, 8950, 8980/Blackberry 90XX Bold (Onyx) Series (480*320) Devices Models: 9000, 9020(Onyx)/Blackberry 96XX Tour (Niagara) Series (480*360):9600, 9630, 9650(Tour2), 9700(Bold2), 9780, Dakota, Apollo