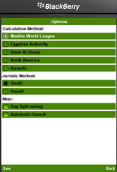 Tag:
AlMuathen
Overview :
free AlMuathen for blackberry apps download

Description:
Here is a list of some implemented and tested features:
* It's possible to select a country and a town from very large list
* Customization of calculation method, juristic, daylight saving
* We can choose the athan to be played (medina, mekka...), the user can listen (play + stop) athan
* Gregorian and Hijri dates are displayed
* A splashscreen is displayed when launching the application
* The country, town, prayers time are displayed on the main window
* The qibla direction is diplayed according to the North
* All user options are saved
* Support touch screen phones
* ... Many features will be added in the future (if you are a developer or designer, you can contribute to the project). Please visit http://www.islamicapp.com for more useful and free applications for mobiles, Blackberry, Internet, desktop....
Model:
Blackberry 95XX Storm Series (360*480):9500, 9510, 9520, 9530, 9550(Storm2), 9800(Torch)