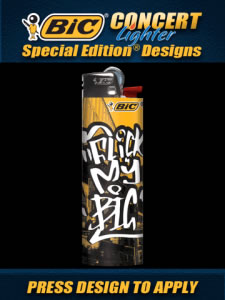 Tag:
Lighter
Concert
BIC
Overview :
BIC Concert Lighter - blackberry apps download
Description:
The BIC® Concert Lighter has been designed specifically for the Blackberry Storm and Storm 2 Models.
BIC® Concert Lighter
BIC® Lighter, America's 1 branded pocket lighter is now a great application for concert and music enthusiasts around the world! Pay tribute to your favorite band's encore performance or show your
support of their exalted 'power ballad'.
BIC has been rocking the concert scene for over 35 years. The highest quality lighter and most stable, reliable flame lets you keep on rocking in the new world. Rock On!
Features
Authentic BIC® lighter flame and sparkwheel action
Awesome selection of designs
Authentic 'flick' sound of a BIC lighter
Regular updates of the latest BIC lighter designs
Safety Message
This is obviously not a real lighter however, please do not let children play with this application.
This application should only be used by adults 19 years of age or older. Keep this 'virtual' lighter
and all real lighters away from children. No lighter is child-proof. There is no substitute for proper
adult supervision.
Model:
Blackberry 95XX Storm Series (360*480): 9500, 9510, 9520, 9530, 9550(Storm2), 9800(Torch)