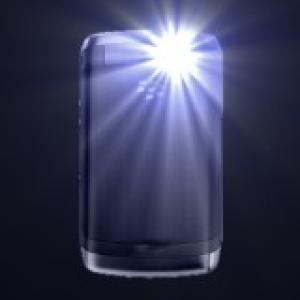 Tag:
Flashlight
Magnesium
One-Touch
Overview :
Magnesium One-Touch Flashlight 8xxx apps
Description:
One-touch flashlight that uses camera light if you have one, otherwise uses screen. Light can be On -or- OFF by default for video recording. Includes Red/White flasher and SOS signal.
Automatic anti-flick-out on Storm/Torch, glowing status display, and dims screen to save power.
Screen mode (only for phones lacking a camera light) can be toggled between White, Red, and Blue, and does not block LED notifications.
Flashlight can be turned on with a convenience key. Use this flashlight hands-free. Flashlight can stay on until battery gets very low.
"How is this flashlight app better than just using the video camera?"
Magnesium Flashlight keeps the light on, and gives you one-touch light without having to leave the light set On by default for video recording.

In camera-light mode, the Magnesium Flashlight display changes gradually from Green to Red as battery gets lower, and turns Blue a few % before the phone would be unable to make calls and vibrates briefly in case you aren't looking.
* Please note, all screenshots are of the status display that is only available in camera-light mode. If you don't have a camera light, you will instead have a bright solid screen and a menu to select the color, or can click to toggle the color.

For BlackBerry® Storm and Torch users, Magnesium Flashlight has a feature to prevent light from turning off whenever phone is rotated as it normally does.

Compared to Other Flashlights:
For one-touch use, most other camera-light flashlight apps require the video camera to be set so that its light comes on whenever the video camera starts up. Magnesium Flashlight allows you to set the video camera with its light OFF by default, and Magnesium Flashlight toggles it on temporarily for one-touch flashlight use, without changing the light's default setting for video recording. Also, few other flashlight apps have anti-flick-out, dim the backlight, have an on-screen display comparable to Magnesium Flashlight, or include emergency flashers.

Answers to Reviews:
Flashlight does more than launch the camera; see description and screenshots.
The backlight issue was solved in an update.
Flashlight has no adverse effect on the BlackBerry® Curve? 8330.
"Doesn't work": All you have to do is grant the flashlight 'Interactions' permissions, and turn the light off by default in the video camera. It certainly does work when it is set up right.
Model:
Blackberry 81XX Series (240*260) Pearl Devices Models: 8100, 8110, 8120, 8130/Blackberry 82XX Series (240*320) Pearl Flip Devices Models: 8200, 8220, 8230/Blackberry 83XX Series (320*240) Curve Devices Models: 8300, 8310, 8320, 8330 / Blackberry 87XX Series (320*240) Devices Models: 8700c, 8700r, 8700f, 8700g, 8703e, 8707, 8707g, 8707v .etc /Blackberry 88XX Series (320*240) Devices Models: 8800, 8820, 8830 .etc