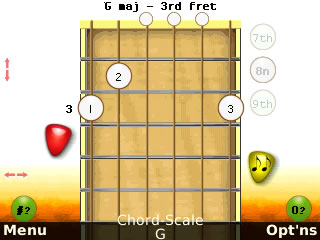 Tag:
Guitar
Tools
iJangle
Overview :
iJangle Guitar Tools

Description:
More than 400 screens of Guitar Chords and Guitar Scales, Guitar Tuner and much more!
•Guitar Chords Book
•Chord-Scales in all keys,
•Guitar Fretboard Map - Interactive
•Chord-Circle (Circle of fifths) module with natural, 7th and 9th chords
•Guitar Tuner 6-string and, 12-string guitar tuner and bass Guitar Tuner, open tunings for 6-string.
•Guitar Scales Book, Pentatonic, blues scales, major, minor scales and modes - Locrian, Mixolydian, Phrygian etc.
An Easy to use guitar composition and reference tool for the pocket. Use just for fun or to help you compose cool guitar music - easy to use !
Interactive chords as they fit into each key. Each chord reveals its notes - see how and hear how the chords are made.
Play back and forth through the scale of any key using its main chords and discover cool progressions. Move to 7ths or 9ths and relative chords. Chord-scales included for all the major and minor keys, naturals and sevenths. ... Download today! ... we're convinced you'll find this a great reference and music composition tool for guitar... for YOUR mobile phone, fun to play whatever your skill in music !
Suitable for both touchscreen and keyboard devices.
Model:
Blackberry 82XX Series (240*320) Pearl Flip Devices Models: 8200, 8220, 8230/Blackberry 8350i (320*240) Related Devices Model: 8500, 8520, 8530, 9300(Kepler)/Blackberry 89XX Curve Series (480*360): 8900(Javelin), 8910(Atlas), 8930, 8950, 8980/Blackberry 90XX Bold (Onyx) Series (480*320) Devices Models: 9000, 9020(Onyx)/Blackberry 96XX Tour (Niagara) Series (480*360):9600, 9630, 9650(Tour2), 9670, 9700(Bold2), 9780 /Blackberry 95XX Storm Series (360*480):9500, 9510, 9520, 9530, 9550(Storm2), 9570(Storm3), 9800(Torch)/Blackberry Pearl 3G Series (360*400) Devices Models: 9100, 9105