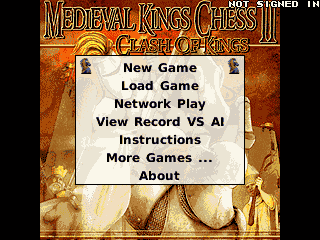 Tag:
Chess
Medieval
Kings
Overview :
Medieval Kings Chess II
Model:
Blackberry 82XX Series (240x320) Pearl Flip Devices Models: 8200, 8220, 8230/Blackberry 8350i (320*240) Related Devices Model: 8500, 8520/Blackberry 83XX Series (320*240) Curve Devices Models: 8300, 8310, 8320, 8330 / Blackberry 87XX Series (320*240) Devices Models: 8700c, 8700r, 8700f, 8700g, 8703e, 8707, 8707g, 8707v .etc /Blackberry 88XX Series (320*240) Devices Models: 8800, 8820, 8830 .etc
Description:
The ultimate game of battle and strategy - Chess - just got better! Relive medieval history, through this battle game masterpiece! Experience interesting play themes based on the greatest war time kings, featuring 6 grades of ultra-strategic and challenging Artificial Intelligence and multiplayer options to fight against live players in the Magmic Gamezone.
This exhilarating new version of Magmic's classic chess game is guaranteed to leave you hooked and wanting more! With its wide range of features, characters and multiplayer possibilities, Medieval Kings Chess II: Clash of Kings is highly recommended to anyone who likes the idea of playing well made games on their Blackberry.