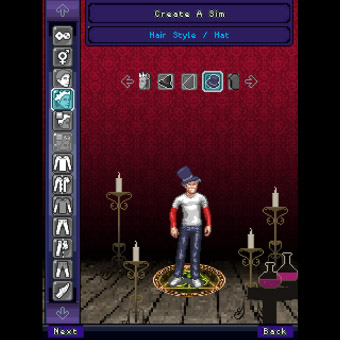 Tag:
Sims
Overview :
The Sims 3™ Supernatural 1.0 for BB os6.0+ games
File Size: 1.5 MB
Required: BlackBerry Device with Resolution 480 x 360 OS 6.0.0 or higher
Model:
Pearl 9100 3G, Pearl 9105 3G, Curve 9300 3G, Curve 9330 3G, Bold 9650, Style 9670, Bold 9700, Bold 9780, Bold 9788, Torch 9800
Blackberry 9220, 9310, 9320, 9790, 9810, 9850, 9860, 9900, 9930, 9981

Description:
"Embrace a life of magic, mystery, mischief, and mayhem with The Sims 3™ Supernatural.
Enter the mysterious town of Moonlight Falls, where odd things happen by the light of the moon. Complete chilling quests to become a menacing werewolf, intriguing vampire, or other creature of darkness! Once the transformation is complete, roam eerie locales such as the Dark Forest in search of romance, intrigue, and mystery (or claw furniture).
Spooky surprises are in store for you in The Sims 3™ Supernatural!