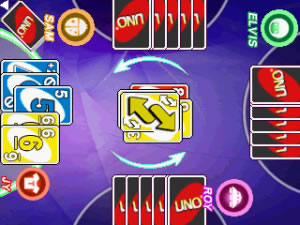 Tag:
UNO TM
Overview :
UNO TM v2.0.2 for blackberry games
Model:
Blackberry 89XX Curve Series (480*360): 8900(Javelin), 8910(Atlas), 8930, 8950, 8980/Blackberry 96XX Tour (Niagara) Series (480*360):9600, 9630, 9650(Tour2), 9700(Bold2), 9780, Dakota, Apollo

Description:
Play the classic card game that s 1 for players of all ages featuring exciting special rules!
It's a race to get rid of all your cards. Just like the best selling UNO® card game, UNO® is easy to pick up, yet impossible to put down. When you have one card left don't forget to shout "UNO®"!

Game Features:
Play classic rules or configure your own rules.
Play against 3 configurable players.
Choose your character.
Sound and music volume control.
Make sure to shout "UNO®" (press 'U') before you get to your last card!
Vibration option to indicate your turn.
Automatically saves games in progress.
Statistics.
Choose room and table.