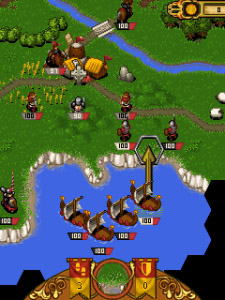 Tag:
9800 games
9500 games
AD 1066
Overview :
AD 1066 v1.0.0 - William the Conqueror
size : 423kb
Model:
Blackberry 95XX Storm Series (360*480):9500, 9510, 9520, 9530, 9550(Storm2), 9570(Storm3), 9800(Torch), Torch2

Description:
You are the scion of one of the oldest noble families. Your liege William the Conqueror, the duke of Normandy, is ready to invade England. You were chosen to command his army! Can you defeat the Anglo-Saxon king Harold Godwinson and his fearsome knights or will you be washed back into the English Channel? Recruit new soldiers, conquer cities, upgrade them to castles and prepare for the final battle at Hastings! You need a lot of tactical talent to defeat your fierce enemies who are prepared to fight to the death! Plan your moves well, and the English crown is yours for the taking!