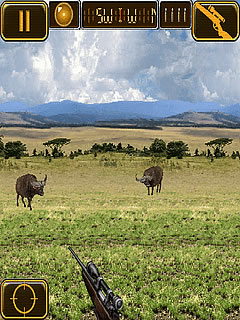 Tag:
Hunter
Deer
African
Safari
Overview :
free blackberry games : Deer Hunter 4: African Safari games for blackberry
The most realistic mobile hunting franchise returns with an all new adventure: Deer Hunter: African Safari!
Travel to African countries such as Namibia, Cameroon and Tanzania to bag exotic big game: Lion, Buffalo, Kudu, and even the mighty Rhinoceros! Experience breathtaking African scenery as you hunt big game, unlocking new difficulty levels and purchasing new items.
Participate in multi-day hunting excursions or opt for quickplay mode where you can choose from a one-day Quick Hunt or Shooting Gallery.
Based on the multi-platform, best-selling hunting game from Atari, Deer Hunter: African Safari is as real as it gets!
Product Features
Hunt in different African countries including Namibia, Cameroon and Tanzania, all expertly rendered to make for the most realistic hunting sim experience available on mobile phones.
All new exotic big game indigenous to Africa: Lion, Buffalo, Kudu, and Rhinoceros - all with true-to-life sense and behaviors!
Toggle weapons mid-hunt - you can now choose between 2 different weapons during any given hunt.
Use the dynamic scope to zoom in and fire more precise shots, hitting your target's "kill zone."
The bigger the game, the better the game - unlock new hunts and purchase new gear and weapons by bagging the biggest animals.
Shooting Gallery mode: Shoot the running Kudu for two minutes and score as many hits as you can!

Model:
Blackberry 95XX Storm Series (360*480):9500, 9510, 9520, 9530, 9550(Storm2), 9570(Storm3), 9800(Torch)