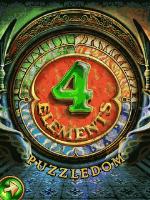 Tag:
81xx games
4 Elements
Puzzledom
Overview :
4 Elements - Puzzledom 71xx,81xx games
Model:
Blackberry 71XX Series (240*260) Devices Models: 7100, 7110t, 7105t, 7100r, 7100v, 7100g, 7100x, 7100i, 7130e, 7130c, 7130g, 7130v/Blackberry 81XX Series (240*260) Pearl Devices Models: 8100, 8110, 8120, 8130/Blackberry 82XX Series (240x320) Pearl Flip Devices Models: 8200, 8220, 8230
Description:
Save a magical puzzle kingdom from eternal darkness in 4 Elements - Puzzledom! Solve an assortment of puzzle challenges, including match 3, hidden object, and more in over 30 colorful levels. Embark on this amazing journey before the Puzzledom is lost forever.
In a faraway land, where magic once ruled, four altars dedicated to the elements of earth, air, fire, and water have been destroyed, unleashing a powerful, dark force.
Solve a captivating assortment of puzzles to collect four ancient books of magic, restore the altars, and release the elemental powers.
Remove matching groups of vibrant game pieces and guide the elements back to the altars. Drive away the darkness, search locations for hidden objects, and try challenging spot-the-difference levels. Puzzle games have never been this rich!
4 Elements - Puzzledom is the stunning mobile adaption of the game Gamezebo called, "an engaging, enchanted experience" that will "cast its spell over all who enter its world." A captivating mix of hidden object, spot the difference and matching games! Blast away obstacles with explosive power-ups Enjoy hours and hours of puzzle fun with more than 30 levels! Unleash the power of your phone with amazing graphics and visual effects.