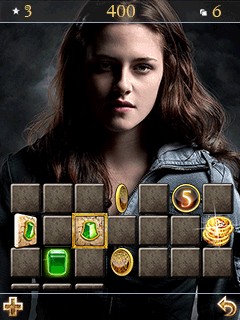 Tag:
Memory
Saga
Twilight
Quest
Overview :
The Twilight Saga Memory Quest - blackberry 95xx storm games download

Description:
Train your memory like a true Fanpire with The Twilight Saga: Memory Quest, a vamp-tastic twist on the classic game of recall.
Play with Bella, Edward, Jacob and more favorites on a journey to improve your memory. Simply flip tiles and match the Twilight symbols, but be quick about it because if you're too slow, the board starts to fill and the tiles will take over!
Strive to reach the highest score in Quest and Quick Play modes featuring four exciting variations: Make matches while new tile rows are added in Normal, remove pairs in Memory, strategize flips in Tricky, and keep up with the shifting tiles in Chaos.
When things get tough, use mysterious power-ups like the Cullen Crest or the Wolfpack Tattoo. And while you're at it, collect gems, earn trophies and check out cool Twilight images! Grab this entertaining match game and sharpen your memory with a must-have for all Twilighters!
Model:
Blackberry 95XX Storm Series (360*480):9500, 9510, 9520, 9530, 9550(Storm2), 9800(Torch)