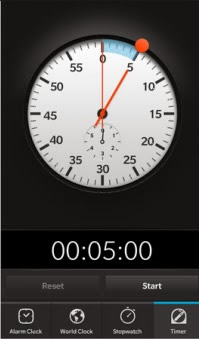 Tag:
Porsche Desi
Overview :
Porsche Design Clock for BB10 model
Version: Beta
File Size: 11.2 MB
Required: BB10 Smartphone OS 10.2.1.1055
Model:
Blackberry 10 Devices: Blackberry Dev Alpha, Blackberry Z10, Blackberry Z15, Blackberry Z30, Blackberry A10, Blackberry Q30, Blackberry Q10, Blackberry Q5
As everyone knows BlackBerry has launched the latest product is the Porsche Design P'9982, especially point Analog watches are incredibly beautiful designs. Not long ago, the Z10 has a user interface experience. If you use the Z10 can be found in this article: Activation of special watches Porsche Design P'9982 BlackBerry 10 on Z10.
Today thanks to a programmer has developed a native version called Instagram iGrann have a hand, you can take this watch to the Q5/Q10 or his Z30. iGrann has provided a bar file, you sideload on and enjoy it.