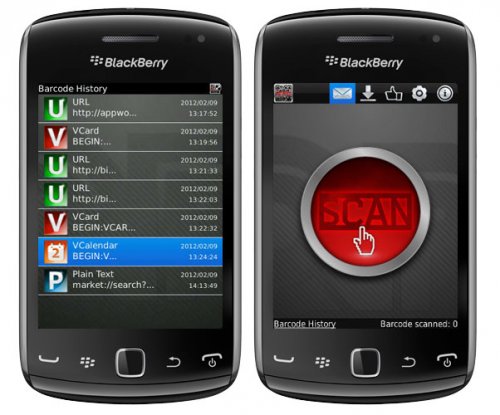 Tag:
Barcode Scan
Overview :
Barcode Scanner v2.1.5 for blackberry os6.0 apps
size: 0.98 mb
Compatible model:
Pearl 9100 3G, Pearl 9105 3G, Curve 9300 3G, Curve 9330 3G, Bold 9650, Style 9670, Bold 9700, Bold 9780, Bold 9788, Torch 9800

Description:
Want a quick and easy way to scan barcodes on your BlackBerry® device? Come check out Barcode Scanner, the new, simple way to read barcodes. With this scanner you can quickly read barcodes in the following formats:
- QR Code
- CODE 128
- CODE 39
- DATAMATRIX
- EAN 13
- EAN 8
- ITF
- PDF417
- UPC A
- UPC E
Once you have installed and started up Barcode Scanner, you can just click the scanner button once to activate the camera/scanner to scan the barcode. The barcode will be read and the URL will be displayed. You may either continue to that URL, copy it to the clipboard, copy it to VCalendar (VEvent, VTodo), or via VCard. It is as easy as that!
You may choose to have your BBM™ status update every time you scan a code. This is now a BBM™Connected application.
If you like Barcode Scanner please write a review. Thanks.
This product comes with a 30 day value back guarantee. More info: http://s4bb.com/returnpolicy