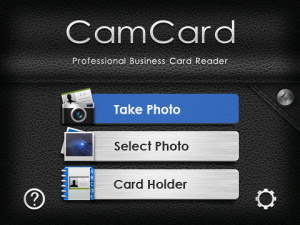 Tag:
CamCard
Overview :
OS 5.0,6.0,7.0
model: Pearl 9100 3G, Pearl 9105 3G, Curve 8520, Curve 8530, Curve 8900, Curve 8910, Curve 8980, Bold 9000, Curve 9300 3G, Curve 9330 3G, Tour 9630, Bold 9650, Style 9670, Bold 9700, Bold 9780, Bold 9788, Curve 9350, Curve 9360, Curve 9370, Storm 9500/9530, Storm2 9550/9520, Torch 9850/9860, Torch 9800, Bold 9790, Torch 2 9810, Bold 9900/9930, 9981

Description:
***
Can't recognize card? Please contact bb_support@intsig.com.
Many thanks to our kind customers.
It supports 9800 Torch.
What's new in v1.3:
1. Update UI
2. Fix focus problem on 9800
3. Fix Internet connnection
4. Fix contact merge issue
5. other bugfixes
What's new in v1.2:
10+ languages added
Added "Use System Camera"
bug fixed and speed improved
Comments from NYTimes:
"The app (CamCard) outdoes competitors in a couple of respects"
"The other apps were good, but overall, CamCard felt more refined"
***
CamCard is a professional business card reader based on IntSig's market leading OCR technologies.
It helps you turn piles of business cards into your phone Contacts with just several clicks. What you only need to do is just to provide clear card photos either by built-in camera or album.
Snap and click, all info on the business card will be automatically recognized and categorized. Supported categories include but not limited to: First Name, Last Name, Tel., Mobile, Fax, Email, Address, Company, Department, Job Title, Postal, Web, IM...
This version also provides a Card Holder to save all the business card images. After the card is recognized and saved in Card Holder, you can make call, send SMS/email, search in Linkedin, visit homepage, and locate on the google map right from the Card Holder.
Features:
- Searchable Card Holder. All card images are automatically saved in Card Holder
- Make call/SMS/Email directly from Card Holder
- Batch processing. Capture 1-100 cards and recognize them all at one time
- Auto rotate card image
- Auto detect languages
- Recognition languages: 16 languages including most european and east asian languages
- Display corresponding card area for result verification
- Add/Merge to phone contacts
Tips:
Capture card as big as possible.
Good lighting environment can help the result.
For portrait card, capture it in landscape style.
Use Wi-Fi for high speed connection
Use batch mode for tens of cards
Requirements:
-Internet access
-AutoFocus camera
-OS 5.0 / 6.0
Support:
bb_support@intsig.com