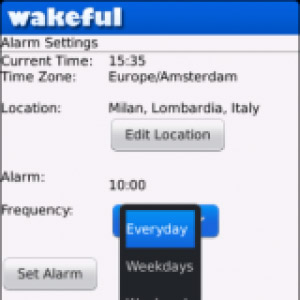 Tag:
99xx
97xx
98xx
Wakeful
Ninja Otter
Overview :
Free Wakeful v2.2.1 - Talking Alarm Clock for blackberry os4.2-7.0 apps
OS 4.2,4.3,4.5,4.6,4.7,5.0,6.0,7.0
Model: 7130, Pearl 8100, Pearl 8110, Pearl 8120, Pearl 8130, Pearl Flip 8220, Pearl Flip 8230, Pearl 9100 3G, Pearl 9105 3G, Curve 8300, Curve 8310, Curve 8320, Curve 8330, Curve 8350i, Curve 8520, Curve 8530, 8700, 8707, 8800, 8820, 8830, Curve 8900, Curve 8910, Curve 8980, Bold 9000, Curve 9300 3G, Curve 9330 3G, Tour 9630, Bold 9650, Style 9670, Bold 9700, Bold 9780, Bold 9788, Curve 9350, Curve 9360, Curve 9370, Storm 9500/9530, Storm2 9550/9520, Torch 9850/9860, Torch 9800, Torch 2 9810, Bold 9900/9930
Description:
Wakeful is an alarm clock application that helps you kick off your day productively by providing you with your life's most important information when waking up. Your morning, your information. This is our free 7 day trial version of Wakeful. To buy a copy after your trial expires please go to: http://www.wakeful.com/
Up to Speed, All the Time: Wakeful brings you the world's latest breaking news each morning.
Prepared for Mother Nature: Receive your local weather and plan your day as you're waking up.
On Top of Stocks: Get the most current stock information based on the world's most important indexes.
Tailor Made for You: Wakeful is customized to you, based on your geo-location.
A Growing Platform: Wakeful is constantly adding new features that improve your morning.