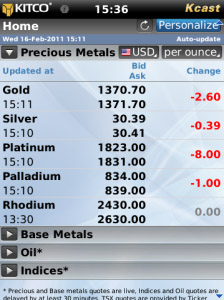 Tag:
9800 apps
9900 apps
Kcast Gold
Overview :
Kcast Gold Live!™ v2.2.3 - free blackberry apps download
Required Device Software
4.2.1 or higher

Description:
Kcast Gold Live!™ for BlackBerry® is the first application to deliver live Gold, Silver, Platinum, Palladium, Rhodium, Base Metals, Oil and Indices quotes and a market price indicator right on your application icon. Have current, relevant and critical market information at your fingertips. The application features: precious metals and base metals prices, the London Fix, informative charts and data, oil and indices quotes, currencies, technical charts, mining stocks, home page in multiple currencies and units of measure all in one free and easy-to-use application that features customizable home page, time zones and refresh rates. With on-demand access to high-quality information from the award-winning website Kitco.com, you're only as far away from being market-wise as you are from your BlackBerry®.
- NEW! Now available for Blackberry OS6 and OS7
- Live quotes for base and precious metals
- Quotes for indices and oil
- Information at a glance on the application icon
- View prices and price changes at a glance, without having to open the application!
- Customizable home page
- Full-screen rotatable charts
- Local, NY Time and GMT time zone options
- Customizable quotes on your application icon
- Value and percentage changes for precious metals, base metals, oil and indices
- Live and historical charts for precious metals, base metals, oil and indices
- London Fix back to 1968
- Available in English, French, Traditional Chinese and Simplified Chinese
- Conversion options for 14 currencies
- Unit of measure conversion options
- Technical charts
- All-new markets page
- Current news, commentaries and press releases
- Exchange rate comparisons for 13 currencies
- Mining Stocks Quotes
- Kitco Video News