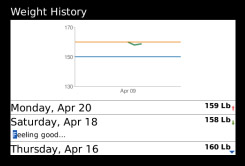 Tag:
9100 apps
85xx apps
FatSecret
Overview :
FatSecret v1.7.2 for blackberry os5.0+ applications
Required Device Software:
5.0.0 or higher
Supported devices:
Blackberry 85xx, 89xx, 90xx, 91xx, 93xx, 95xx, 96xx, 97xx, 9800, 9810, 9860, 9900, 9930
Description:
Calorie Counter is the essential app to simply find nutritional info for the food you eat and to keep track of your meals, exercise and weight.
The Calorie Counter application has all the cool tools to help you succeed:
- A food quick pick to find calorie and full nutrition information.
- A food diary to plan and keep track of what you're eating.
- An activity diary to record all the calories you burn.
- A weight chart.
- A journal to record your progress.
You can also sync and access your account online to access your info anywhere, any time.
UPDATE: If you have internet connection problems, please update your phone's APN settings for your particular carrier, which your carrier will be able to provide.
For Storm users, if problems after installing please go to (Options--Advance Options--Applications--Highlight Calorie Counter-- press the BlackBerry Button--Disable Compatibility. Also there is a known issue/bug with the the number field entry. Please rotate the screen to landscape mode to address the issue. We understand the bug will be fixed in the next official firmware update. We appreciate your patience. More coming soon.