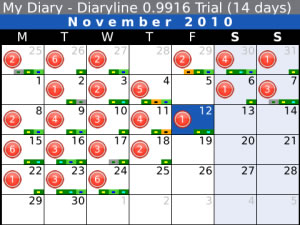 Tag:
99xx apps
Torch apps
9800
Diaryline
Overview :
Diaryline v1.0.3 for blackberry applications

Diaryline is a fun and easy to use diary app that allows you to maintain multiple diaries consisting of notes and photos which can be viewed on a chronological timeline, a monthly calendar or in a classic list format.
Diaryline items can be assigned multiple custom labels and you can set a label filter on any view.
Diaryline is a great way to keep a daily journal, garden diary, travel diary, pets and kids, construction and renovation – the possibilities are unlimited.
Model:
Blackberry 89XX Curve Series (480*360): 8900(Javelin), 8910(Atlas), 8930, 8950, 8980/Blackberry 90XX Bold (Onyx) Series (480*320) Devices Models: 9000, 9020(Onyx)/Blackberry 96XX Tour (Niagara) Series (480*360):9600, 9630, 9650(Tour2), 9700(Bold2), 9780, Dakota, Apollo /Blackberry 95XX Storm Series (360*480):9500, 9510, 9520, 9530, 9550(Storm2), 9570(Storm3), 9800(Torch), 9810/9850/9860(Torch2)/Blackberry Pearl 3G Series (360*400) Devices Models: 9100, 9105, 9670(Style)/Blackberry 99XX (OS 7.0) Series (640*480) Devices Models: 9900, 9930