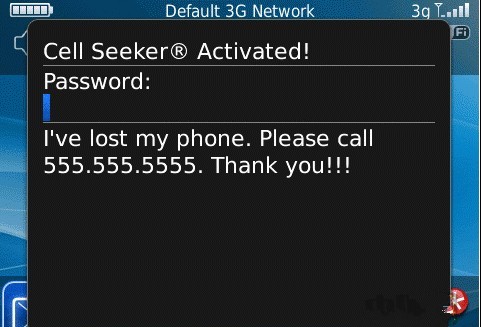 Tag:
Edition
Cell
Seeker
Standard
Overview :
Cell Seeker Standard Edition (os4.5-5.0)
Model: os 4.5-5.0
Description:
Cell Seeker® is great for keeping track of your cell phone in the event it is ever lost or stolen. Monitor the location of family members.
Parents locate your children at any time, or have Cell Seeker® monitor your child's location, and if your child ever leaves your home location, Cell Seeker® will automatically notify you via email and/or SMS.
Business owners, locate your business cell phones at any time. Ensure that your employees are staying within a defined radius of your business.
If your cell phone is in someone's possession, you can activate Cell Seeker® via Call Me to have your cell phone automatically call you and activate the speaker phone to allow for you to talk to the person.
Cell Seeker® can be activated quietly, which allows for retrieving the current location of your cell phone without any visual or audible notifications that Cell Seeker® was activated.
Cell Seeker® runs in the background and is always listening. Cell Seeker® automatically starts when the cell phone is powered up or reset.
Cell Seeker® Security Zone Monitor allows for you to define a secure radius from a defined home location, and if the cell phone leaves the secure area, an email and/or SMS message will be sent with the cell phones location. Another message will then be sent when the cell phone returns to its home location.
Many more options available…
Reviews are always welcome. Let us know what you think and how we can improve.
"I have been using Cell Seeker® since version 4.7 and I have always had great support and success with this product and it just gets better. It is one of those programs that just sits' in the background and you never think about it until you need it and it always works when needed." – Cell Seeker User
PLEASE NOTE: Cell Seeker must be loaded onto the phone's which you want to track.
Contact Cell Seeker® support if you have any questions.