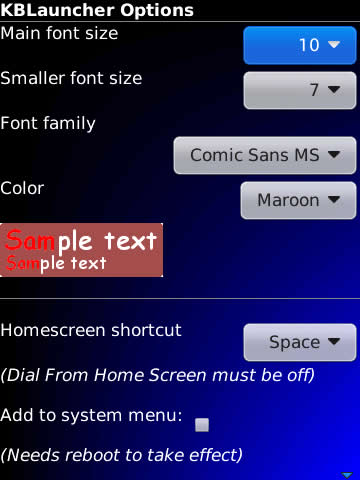 Tag:
KBLauncher
Overview :
KBLauncher v2.0.0 (os 4.5)
Model:
Blackberry 83XX Series (320*240) Curve Devices Models: 8300, 8310, 8320, 8330 / Blackberry 87XX Series (320*240) Devices Models: 8700c, 8700r, 8700f, 8700g, 8703e, 8707, 8707g, 8707v .etc /Blackberry 88XX Series (320*240) Devices Models: 8800, 8820, 8830 .etc
Description:
KBLauncher is a quick app launcher and collection of utilities, a command line for your BlackBerry.
What is it? KBLauncher is a faster, more convenient way to use your BlackBerry(R), powered by your keyboard. Instead of scrolling through endless icons to start an app, just start typing its name. No need to remember cryptic shortcuts or spend time configuring: KBLauncher automatically detects your apps and offers them by name. It also comes with a collection of useful utilities and convenience commands not available from your home screen. Configure one of your convenience keys to start KBLauncher, and unleash the power of your keyboard.
FEATURES:
* Automatically detects your installed apps.
* Adapts to your usage, sorting most recently used commands first.
* Power search: hold down your shift key to match the first letter of each word.
* Handy utilities: Screenshot, Reset LED, WiFi on/off, Memory Cleaner, Event Log, Power Off.
* Works with physical and screen keyboards.
* Customizable fonts and colors
* Small and fast
NEW FEATURES IN 2.0:
* New commands: Screenshot, Event Log, Power Off, Reset LED, SMS Inbox, MMS Inbox, Media, Music, Pictures, Playlists, Ringtones, Videos, Voice Notes, Podcasts. (Not all commands may be available: it depends on the OS version and permissions.)
* New ways to launch KBLauncher: use the system menu or home screen shortcut.
* The Twitter recognition problem in the beta has been fixed.
Installation: KBLauncher may start with a black background and request additional permissions (screen capture/recording, event injection) needed for full functionality. Use the Request Permissions button in the Options screen to redo permissions.
HINTS:
* Press the menu button to access help and options.
* For best results, assign KBLauncher to a side convenience key.