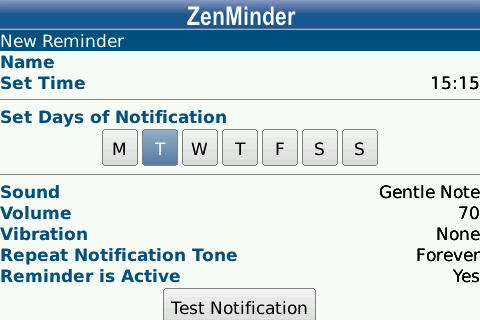 Tag:
ZenMinder
Overview :
free ZenMinder Lite apps for blackberry download
Model:
Blackberry 71XX Series (240*260) Devices Models: 7100, 7110t, 7105t, 7100r, 7100v, 7100g, 7100x, 7100i, 7130e, 7130c, 7130g, 7130v/Blackberry 81XX Series (240*260) Pearl Devices Models: 8100, 8110, 8120, 8130/Blackberry 82XX Series (240x320) Pearl Flip Devices Models: 8200, 8220, 8230/Blackberry 8350i (320*240) Related Devices Model: 8500, 8520/Blackberry 83XX Series (320*240) Curve Devices Models: 8300, 8310, 8320, 8330 / Blackberry 87XX Series (320*240) Devices Models: 8700c, 8700r, 8700f, 8700g, 8703e, 8707, 8707g, 8707v .etc /Blackberry 88XX Series (320*240) Devices Models: 8800, 8820, 8830 .etc /Blackberry 89XX Curve Series (480*360): 8900(Javelin), 8910(Atlas)/Blackberry 90XX Bold (Onyx) Series (480*320) Devices Models: 9000, 9020(Onyx)/Blackberry 96XX Tour (Niagara) Series (480*360):9600, 9630, 9650(Tour2), 9700(Bold2) /Blackberry 95XX Storm Series (360*480):9500, 9510, 9520, 9530, 9550(Storm2)
Description:
ZenMinder Lite is a multialarm and reminder application for BlackBerry.
ZenMinder Lite allows you to set 2 additional alarms on your BlackBerry smartphone.
Some situations where ZenMinder is used and helpful:
• Multiple wake up calls in the morning
• Reminds you to take your medicine
• Get reminded to pick up the kids
• Get reminded to water the flowers every second day
• Get reminded to follow a new habit
• Schedule important calls every few months
• Set alarms to get up in the morning and set reminders to go to bed
• Define a personal mission statement and remind yourself regularly
With ZenMinder you can easily set multiple reminders for activities, tasks and other important issues and get reminded by your BlackBerry with a friendly reminder tone. The convenient repeater functionality allows to create recurring reminder that help you establish and maintain new routines and habits.
Made by: Ademendo Software