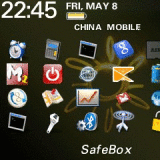 Tag:
Safebox
Overview :
free Safebox v0.03 apps for blackberry
Safebox is a password protection program for your BlackBerry, it enables you to lock specific applications with a password.
You can decide to lock your messages folder, media files, options or any application that has been installed on your BlackBerry.
Using Safebox you will be able to lock out anyone from seeing your private media files or using certain applications. Maybe you don't want others to see your private emails, important calendar events or risk them editing your blackberry options.
Safebox however will be able to stop all of this, No more worrying about what others can see on your phone.
Whereas with the default BlackBerry password, every time you want to use your device and have locked your keyboard, you have to type in a password.
Safebox offers a much more efficient way to protect your BlackBerry, by only protecting those specific parts you wish to protect not the whole device where you have to type in a password every time you want to use it.
Safebox also allows you to specify whether you want to start protecting your data after your backlight has turned off, or manually protect it by selecting the *Protect Device* listed in the menus for easy and fast access.
An effective program to use your blackberry in the most efficient way!

Here are some key features of "Safebox":
· Lock any Application that you want with no limits - Lock as many as you want!
· Choose when to protect applications
· Quick and easy setting up
· No other program like it
· Auto Start
· Background Mode
· Ability to fully shutdown the program

Model:
Blackberry 72XX Series (240*160) Devices Models: 7200, 7210, 7230, 7250, 7270, 7280, 7290, 7510, 7520, 6510/Blackberry 71XX Series (240*260) Devices Models: 7100, 7110t, 7105t, 7100r, 7100v, 7100g, 7100x, 7100i, 7130e, 7130c, 7130g, 7130v/Blackberry 81XX Series (240*260) Pearl Devices Models: 8100, 8110, 8120, 8130/Blackberry 82XX Series (240x320) Pearl Flip Devices Models: 8200, 8220, 8230/Blackberry 8350i (320*240) Related Devices Model: 8500, 8520, 8530/Blackberry 83XX Series (320*240) Curve Devices Models: 8300, 8310, 8320, 8330 / Blackberry 87XX Series (320*240) Devices Models: 8700c, 8700r, 8700f, 8700g, 8703e, 8707, 8707g, 8707v .etc /Blackberry 88XX Series (320*240) Devices Models: 8800, 8820, 8830 .etc /Blackberry 89XX Curve Series (480*360): 8900(Javelin), 8910(Atlas)/Blackberry 90XX Bold (Onyx) Series (480*320) Devices Models: 9000, 9020(Onyx)/Blackberry 96XX Tour (Niagara) Series (480*360):9600, 9630, 9650(Tour2), 9700(Bold2) /Blackberry 95XX Storm Series (360*480):9500, 9510, 9520, 9530, 9550(Storm2)/Blackberry Pearl 3G Series (360*400) Devices Models: 9100, 9105