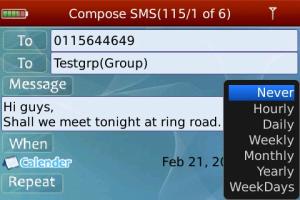 Tag:
Message
Scheduler
Overview :
Message Scheduler v5.0 - blackberry apps download
Description:
Must have app for BlackBerry® to schedule your daily task!!
The Message Scheduler and Forwarder is a powerful tool to schedule Phone Call, Email, Sms and Pin messages in the future date and share some of them with your friends and family using auto SMS forwarding system.
********* Application Features *********
New Features with 5.0 release.---
* Email Signature
* Ability to enable/disable App Auto-start at device start-up
* Import native groups and use them directly
* Export message backup to csv file(can be open using excel)
* Calender integration
* Now can do Hourly schedule
* Schedule for any weekday
* Sort by schedule date, message type and Name/Number
* Create templates and use them in message compose
* Re-schedule sent, cancel and failed message
* Ability to set expiry date for repeat messages.

Application feature
* Ability to schedule directly from native address book, Emails, Dialer, Message app.
* Full integration with the Native BlackBerry® address book, Call logs.
* Schedule a reply easily from the BlackBerry® SMS and E-mail application.
* Allows specifying multiple recipient numbers and groups.
* Supports daily, weekly, monthly and yearly recurrence.
* Use groups for bulk message scheduling and forwarding.
* Allows scheduling unlimited Sms, Email, Phone Call and Pin messages.
* Allows forwarding your Incoming Sms to share with friends.
* Add template for message forwarding to front and back part.
* All messages are stored in Device memory.
* Create New Groups for Sms, Pin and Email contact.
* View Groups and add Contacts to groups.
* Compose Scheduling for Sms, Email, Phone Call and Pin messages.
* Option to Play ring tone on phone call schedule.
* Add multiple To, CC, Bcc message for Email and pin.
* Add Attachment to Email Messages.
* Choose recipient numbers from the device's Address Book, Call Logs and Groups.
* View Message history by using Drafts, Sent and Canceled, Outbox Folder.
* Once scheduled SMS delivered, it can be viewed in Send Folder.
* Option to resend, delete canceled, Failed and sent messages.
* User can cancel message, which sends to Cancel Folder, where user can send it again.
* Works with both GSM and CDMA Phones.
* Auto starts when the device is turned on, and then runs in background.
* Option to Stop application working in the background.
* Works on all devices with OS 4.3 and newer.
Please contact support with any issues or new ideas that you may have.
If you like Message Scheduler please writes a review. Thanks.
Model:
Blackberry 82XX Series (240*320) Pearl Flip Devices Models: 8200, 8220, 8230/Blackberry 8350i (320*240) Related Devices Model: 8500, 8520, 8530, 9300(Kepler), 9330/Blackberry 83XX Series (320*240) Curve Devices Models: 8300, 8310, 8320, 8330 / Blackberry 87XX Series (320*240) Devices Models: 8700c, 8700r, 8700f, 8700g, 8703e, 8707, 8707g, 8707v .etc /Blackberry 88XX Series (320*240) Devices Models: 8800, 8820, 8830 .etc /Blackberry 89XX Curve Series (480*360): 8900(Javelin), 8910(Atlas), 8930, 8950, 8980/Blackberry 90XX Bold (Onyx) Series (480*320) Devices Models: 9000, 9020(Onyx)/Blackberry 96XX Tour (Niagara) Series (480*360):9600, 9630, 9650(Tour2), 9700(Bold2), 9780, Dakota, Apollo /Blackberry 95XX Storm Series (360*480):9500, 9510, 9520, 9530, 9550(Storm2), 9570(Storm3), 9800(Torch), Torch2/Blackberry Pearl 3G Series (360*400) Devices Models: 9100, 9105, 9670(Style)