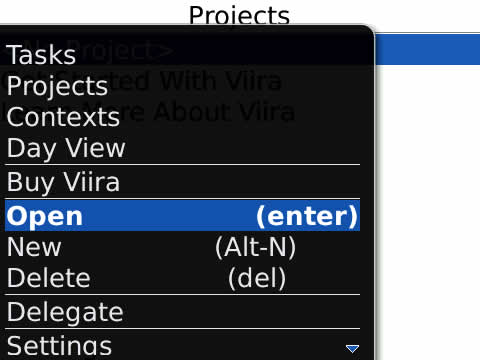 Tag:
Viira
Overview :
free Viira v2.1.2 apps for blackberry
Description:
Viira (pronounced Vi-rah) helps you stay on top of your busy schedule by enabling you to leverage the principles of David Allen's best-selling Getting Things Done® in your day-to-day life.
As the first BlackBerry GTD® application to consolidate emails, appointments and events as well as projects and contexts in one comprehensive and truly mobile organizational system, Viira will take your personal productivity to a whole new level. With features like Next Actions, Day View, overdue task display and seamless calendar synchronization you won't look back to the built-in BlackBerry Tasks!
•Stay on top of your Inbox: Add email to your GTD system. Create tasks based on incoming email messages and classify them right away by project, context or day.
•Projects, Contexts: Built in support for both projects and contexts.
•Your Day At a Glance: Assign a day to your tasks and view your complete day's schedule in Viira's Day View.
•Next Actions: Easily assign the next action for each project, context or day.
•Delegate: Delegate a project or context by email; send it to yourself for printing, review or archiving.
•Shortcuts: Become a GTD power user! Perform the most frequent actions quickly.
•Appointments: Events and appointments are part of your GTD system.
•Always There: No active internet connection is required so your GTD habbits don't need to end with your network coverage.
•And so much more! You can read about Viira's full feature set from here.
So, grab the free trial and see for yourself what Viira can do for you. Viira is a snap to install and use on your BlackBerry and works on all modern BlackBerry devices. You can also check out our FAQ or browse the Viira Resources Page for more information, how-tos and tips to get you started
Model:
Blackberry 81XX Series (240*260) Pearl Devices Models: 8100, 8110, 8120, 8130/Blackberry 82XX Series (240*320) Pearl Flip Devices Models: 8200, 8220, 8230/Blackberry 8350i (320*240) Related Devices Model: 8500, 8520, 8530, 9300(Kepler), 9330/Blackberry 83XX Series (320*240) Curve Devices Models: 8300, 8310, 8320, 8330 / Blackberry 87XX Series (320*240) Devices Models: 8700c, 8700r, 8700f, 8700g, 8703e, 8707, 8707g, 8707v .etc /Blackberry 88XX Series (320*240) Devices Models: 8800, 8820, 8830 .etc /Blackberry 89XX Curve Series (480*360): 8900(Javelin), 8910(Atlas), 8930, 8950, 8980/Blackberry 90XX Bold (Onyx) Series (480*320) Devices Models: 9000, 9020(Onyx)/Blackberry 96XX Tour (Niagara) Series (480*360):9600, 9630, 9650(Tour2), 9700(Bold2), 9780 /Blackberry Pearl 3G Series (360*400) Devices Models: 9100, 9105, 9670(Style)