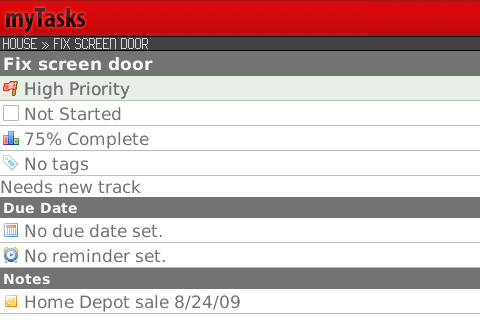 Tag:
myTasks
Overview :

Description:
myTasks v2.0.6 Full Version
myTasks goes beyond what the basic BlackBerry ToDo software offers. myTasks allows you to sort your tasks into projects. The projects themselves can have projects within them. Store voice and text notes in your tasks to organize your progress on the tasks, all within an attractive user interface that you will love the second you lay eyes on it!
Features:
* Unlimited projects within projects
* Sequential projects, items are organized by in which order they should be completed.
* General projects, a common list where items are sorted by their due dates.
* Tasks where you can set due dates, add descriptions, attach voice notes or text notes, and color coordinate them.
* Aesthetic user interface that will make you fall in love with this application!

Minimum Requirements:
* myTasks requires a BlackBerry with a minimum OS of 4.2.1

Display Dimensions
240x240, 240x260, 240x320, 320x240, 360x480, 480x320, 480x360
Operating System
4.2, 4.3, 4.5, 4.6, 4.7 Non-Touch, 4.7 Touch Screen, 5.0 Non-Touch, 5.0 Touch Screen
Model:
Blackberry 81XX Series (240*260) Pearl Devices Models: 8100, 8110, 8120, 8130/Blackberry 82XX Series (240*320) Pearl Flip Devices Models: 8200, 8220, 8230/Blackberry 8350i (320*240) Related Devices Model: 8500, 8520, 8530, 9300(Kepler), 9330/Blackberry 83XX Series (320*240) Curve Devices Models: 8300, 8310, 8320, 8330 / Blackberry 87XX Series (320*240) Devices Models: 8700c, 8700r, 8700f, 8700g, 8703e, 8707, 8707g, 8707v .etc /Blackberry 88XX Series (320*240) Devices Models: 8800, 8820, 8830 .etc /Blackberry 89XX Curve Series (480*360): 8900(Javelin), 8910(Atlas), 8930, 8950, 8980/Blackberry 90XX Bold (Onyx) Series (480*320) Devices Models: 9000, 9020(Onyx)/Blackberry 96XX Tour (Niagara) Series (480*360):9600, 9630, 9650(Tour2), 9700(Bold2), 9780 /Blackberry 95XX Storm Series (360*480):9500, 9510, 9520, 9530, 9550(Storm2), 9570(Storm3), 9800(Torch)/Blackberry Pearl 3G Series (360*400) Devices Models: 9100, 9105, 9670(Style)