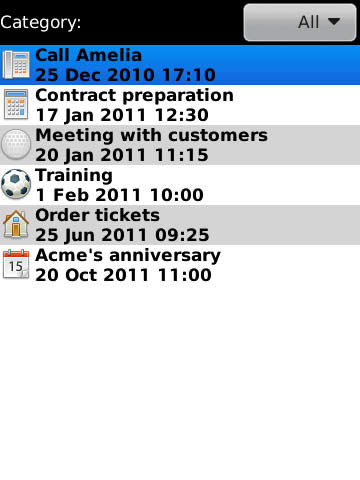 Tag:
Reminder
Tbilisoft
Overview :
free Tbilisoft Reminder apps for blackberry download
A handy reminder application for BlackBerry devices with repeating and customizable reminders, custom alarm options and customizable user interface.
Key features:
Repeating and customizable reminders with advance notice
217 icons for reminders
Custom LED color for a reminder
Date calculator with support for "business day" measure unit
Customizable alarm settings (snooze, volume, vibration, etc.)
Customizable user interface
"Find", "Filter" and "Sort" features
Password protected "Backup" and "Restore" features
10-day trial period of a fully functional version.
Model:
Blackberry 71XX Series (240*260) Devices Models: 7100, 7110t, 7105t, 7100r, 7100v, 7100g, 7100x, 7100i, 7130e, 7130c, 7130g, 7130v/Blackberry 81XX Series (240*260) Pearl Devices Models: 8100, 8110, 8120, 8130/Blackberry 82XX Series (240*320) Pearl Flip Devices Models: 8200, 8220, 8230/Blackberry 8350i (320*240) Related Devices Model: 8500, 8520, 8530, 9300(Kepler), 9330, Apollo/Blackberry 83XX Series (320*240) Curve Devices Models: 8300, 8310, 8320, 8330 / Blackberry 87XX Series (320*240) Devices Models: 8700c, 8700r, 8700f, 8700g, 8703e, 8707, 8707g, 8707v .etc /Blackberry 88XX Series (320*240) Devices Models: 8800, 8820, 8830 .etc /Blackberry 89XX Curve Series (480*360): 8900(Javelin), 8910(Atlas), 8930, 8950, 8980/Blackberry 90XX Bold (Onyx) Series (480*320) Devices Models: 9000, 9020(Onyx)/Blackberry 96XX Tour (Niagara) Series (480*360):9600, 9630, 9650(Tour2), 9700(Bold2), 9780, Dakota /Blackberry 95XX Storm Series (360*480):9500, 9510, 9520, 9530, 9550(Storm2), 9570(Storm3), 9800(Torch), Torch 2/Blackberry Pearl 3G Series (360*400) Devices Models: 9100, 9105, 9670(Style)