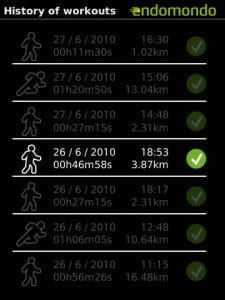 Tag:
Sports
Endomondo
Tracker
Overview :
Use your mobile as a free personal coach and training partner. Using the built-in GPS, it tracks your running, cycling, hiking, kayaking, skiing - you name it! As a bonus, you get audio feedback while working out.
App. Features:
Track any outdoor sport including duration, distance and speed
Get audio feedback while exercising
Get live peptalks from friends - they write a short text on the web which is then read out loud whilst exercising
View history of workouts
Study split times per km or mile
See your route on a map
NEW in v7.0: Download a route from endomondo.com to your phone and use it as goal for your workout. This will also help you navigate while working out!
With the accompanying free website, www.endomondo.com, you get a wide range of functions and the ability to compete against your friends.
Website Features:
Get an overview of your workout history and statistics
Share workouts on Facebook and Twitter
Let your friends and family follow you live while you are training or participating in a sports event
Compete against others, e.g., who burns the most calories this month?
NEW on web: Compete with friends and foes on a specific route and become the Route Champion!
Get ready to free your endorphins!
NOTE regarding VERIZON: Because of GPS issues, the application is currently not compatible with 8X30 phones running on Verizon.
Model:
Blackberry 81XX Series (240*260) Pearl Devices Models: 8100, 8110, 8120, 8130/Blackberry 82XX Series (240*320) Pearl Flip Devices Models: 8200, 8220, 8230/Blackberry 8350i (320*240) Related Devices Model: 8500, 8520, 8530, 9300(Kepler), 9330/Blackberry 83XX Series (320*240) Curve Devices Models: 8300, 8310, 8320, 8330 / Blackberry 87XX Series (320*240) Devices Models: 8700c, 8700r, 8700f, 8700g, 8703e, 8707, 8707g, 8707v .etc /Blackberry 88XX Series (320*240) Devices Models: 8800, 8820, 8830 .etc /Blackberry 89XX Curve Series (480*360): 8900(Javelin), 8910(Atlas), 8930, 8950, 8980/Blackberry 90XX Bold (Onyx) Series (480*320) Devices Models: 9000, 9020(Onyx)/Blackberry 96XX Tour (Niagara) Series (480*360):9600, 9630, 9650(Tour2), 9700(Bold2), 9780 /Blackberry 95XX Storm Series (360*480):9500, 9510, 9520, 9530, 9550(Storm2), 9570(Storm3), 9800(Torch)/Blackberry Pearl 3G Series (360*400) Devices Models: 9100, 9105, 9670(Style)