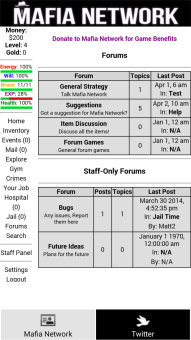 Tag:
Mafia Networ
Overview :
FREE Mafia Network 1.0 for blackberry 10 games
Version: 1.0
File Size: 6 kb
Model: Blackberry Dev Alpha, Blackberry Z10, Blackberry Z15, Blackberry Z30, Blackberry A10, Blackberry Q30, Blackberry Q10, Blackberry Q5, Blackberry P'9982
Description:
From the creators of Mafia Life, we present you... Mafia Network!
Mafia Network is the latest text based RPG.
A digital world full of villainy and corruption, complete crimes, level up and make friends or foes in the world that is Mafia Network.
There's loads to explore whether you want to become the richest through gambling and trading,
the highest level player by completing crimes and increasing your stats or
become the most wanted by doing player vs player combat!
Join a great community full of personalities and have fun meeting new people from all over the world.
So what are you waiting for? Join the Network!