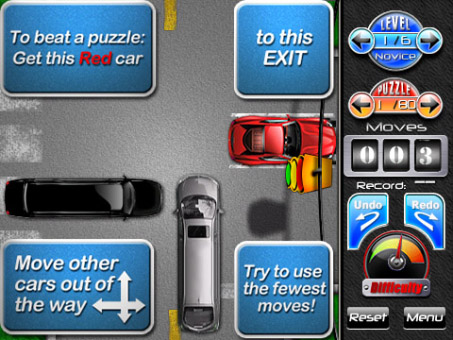 Tag:
Puzzle
Aces Traffic
Overview :
Aces Traffic Puzzle Pack 2.0.12.1 - Aces Traffic Pack contains 475 puzzles! Test your strategic thinking with varying traffic puzzle difficulties, maneuver your car and others around parking lots and traffic jams to set your car free! Make sure to watch out for objects such as potholes and rocks that we've placed in areas to increase your problem-solving skills!

Version: 2.0.12.1
File Size: 3 MB
Required: 7.0.0 or higher
Model: Blackberry 9220, 9300(Kepler), 9320, 9330, 9350, 9360, 9370, 9380, 9620, 9790, 9350, 9360, 9370, 9850, 9860, 9900, 9930, p9981


Description:
The amazing graphics and realistic sound effects dazzle the eyes and ears while the puzzle challenges your mind. The statistic tracking adds a competitive element so you can compete against yourself or challenge a friend to beat your best time or lowest move count.
Features:
• Over 475 puzzles of increasing difficulty.
• Immoveable objects, such as rocks, corners and potholes, to test your brain and increase difficulty.
• Vibrant and attractive graphics.
• Fun sound effects.
• Play each pack straight through or select any puzzle using "Choose Puzzle" option.
• Unlimited amount of undo and redo moves!
• Records the best time, lowest move count, and how many undo and redo moves.
• Automatically tracks your statistics, including how many moves made in each puzzle and how much time it takes to complete.
• 6 level packs of varying difficulty with 80 puzzles in each!
• Tutorial Mode available to get you started.