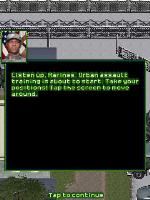 Tag:
Modern
Call
Duty
Warfare
Force Recon
Overview :
Call Of Duty 6 Modern Warfare 2 Force Recon
Model:
Blackberry 95XX Storm Series (360*480):9500, 9510, 9520, 9530, 9550(Storm2)
Description:
The most anticipated first-person shooter series returns to modern warfare and plunges you into the gritty chaos of a terrorist threat in Mexico. Demolish enemy buildings, use weaponry aboard a helicopter, and snipe enemy targets in this intense military campaign!
The most anticipated 1st person shooter series returns with an all-new conflict where you must lead a US Marine squad to victory against a growing terrorist threat in Mexico.
Set in modern wartime environments, this thrusts you into the chaos of battle with advanced weaponry and intense combat missions.
Demolish enemy strongholds with heavy automatic fire from a helicopter or for more precise kills use steady aim on your sniper rifle.
It's up to you to prevent a full scale war!