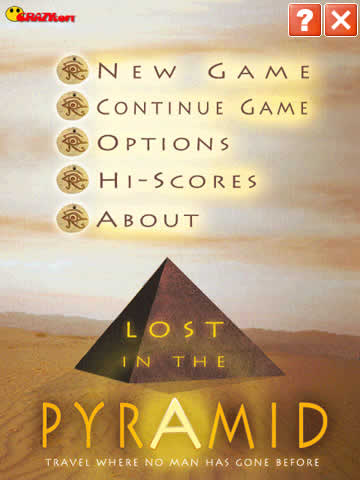 Tag:
Pyramid
95xx games
Lost
Overview :
Lost In the Pyramid for blackberry storm 95xx games
Model:
Blackberry 95XX Storm Series (360*480):9500, 9510, 9520, 9530, 9550(Storm2), 9800(Torch)
Description:
Lost in the Pyramid is a fresh idea that brings back memories from the old, funny adventure games.
Your character is an archaeologist which discovers a brand new Pyramid. Your task is to enter the Pyramid, explore it, unravel its mysteries and try not to die.
The game is fully translated into:
English
German
Greek
Turkish
Italian
French
Spanish
FEATURES:
• Fully translated into several languages.
• Hilarious story and humorous dialogues.
• Many rooms to explore.
• Witty puzzles to solve
• Easy point and click game play with interactive inventory.
• Fresh high quality graphics
• Full screen graphics!
• Funny interactive scenes
• Automatic save and continue system
• Two different game endings
• Export your Hi-Score on-line and compare it with everybody.
• Supports virtual mouse pointer