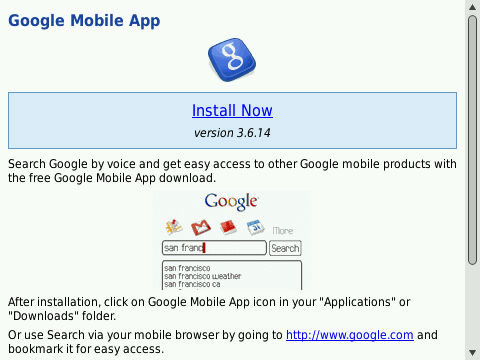 Tag:
9900 apps
98xx apps
Overview :
Google Mobile App v3.9.8 for blackberry apps
Model:
Blackberry 82XX Series (240*320) Pearl Flip Devices Models: 8200, 8220, 8230/Blackberry 8350i (320*240) Related Devices Model: 8500, 8520, 8530, 9300(Kepler), 9330/Blackberry 83XX Series (320*240) Curve Devices Models: 8300, 8310, 8320, 8330 / Blackberry 87XX Series (320*240) Devices Models: 8700c, 8700r, 8700f, 8700g, 8703e, 8707, 8707g, 8707v .etc /Blackberry 88XX Series (320*240) Devices Models: 8800, 8820, 8830 .etc /Blackberry 89XX Curve Series (480*360): 8900(Javelin), 8910(Atlas), 8930, 8950, 8980/Blackberry 90XX Bold (Onyx) Series (480*320) Devices Models: 9000, 9020(Onyx)/Blackberry 96XX Tour (Niagara) Series (480*360):9600, 9630, 9650(Tour2), 9700(Bold2), 9780, Dakota, Apollo /Blackberry 95XX Storm Series (360*480):9500, 9510, 9520, 9530, 9550(Storm2), 9570(Storm3), 9800(Torch), 9810/9850/9860(Torch2)/Blackberry Pearl 3G Series (360*400) Devices Models: 9100, 9105, 9670(Style)/Blackberry 99XX (OS 7.0) Series (640*480) Devices Models: 9900, 9930
Description:
Google Mobile App for BlackBerry now allows users to search using their voices and with Google's My Location application. Google has been making substantial inroads with its mobile apps, even as a number of mobile device makers gear up to produce Android-based smartphones.
Google Mobile App for BlackBerry now allows users to reduce typing on the Research In Motion smartphones by carrying out mobile Web searches for a location using their voices or the search giant's My Location application, or both.
"If you're like us and hate typing on that tiny keyboard, you'll be glad to hear that Google Mobile App on your BlackBerry will let you search with your voice and with My Location," Luca Zanolin, a Google Mobile App engineer, wrote in a Google Mobile Blog post March 25.
Say you're looking for the nearest bookstore. By inputting "bookstore" with My Location enabled, you generate a list of bookstores nearest your location.
Users also now have search-by-voice functionality for their BlackBerrys, a feature already available to users of the iPhone and the Android platform. Say the word "bookstore" and Google will generate local results and a corresponding link to Google Maps.
"Searching by voice can be used in combination with the My Location feature, and it works well with standard Google searches, such as currency conversion and weather," Zanolin wrote.
Google Mobile App will run on all versions of the RIM BlackBerry running on O/S 4.1+. The search-by-voice feature is supported on O/S 4.2 and above, with support for the BlackBerry Storm coming soon.