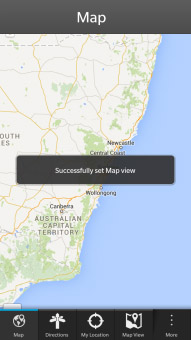 Tag:
GPS
Maps
Overview :
GPS Maps Pro 1.0.3.2 for blackberry 10 apps
GPS Maps is an wonderful application to navigate place. GPS Maps gives is highly optimized and low power consumption solution for Maps.
List of features.
* Fast searching.
* Accurate auto complete suggestions.
* Fast directions search.
* Find alternate routes with directions.
* Share your routes.
* Save your destination routes.
* Track your location.
* Check your location while following directions.
* Localize map with available localized languages.
* See you latitude, longitude.
* Check weather near you.
* Hang out at important places near you.
* Search whats nearby you.
* 8 different map views.
* Set you places which you want to see around you.
* Set default map view you want to see first time.
* Panorama map view
* Low battery consumption.
* Accurate results.
Supported Devices:
BlackBerry Leap
BlackBerry Passport
BlackBerry Q10
BlackBerry Q5
BlackBerry Z10
BlackBerry Z3
BlackBerry Z30