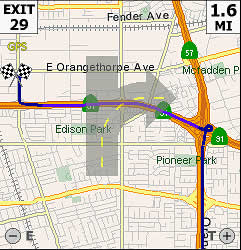 Tag:
GPS
Mobium
Overview :
free Mobium GPS v3.1.0 apps for blackberry
Description:
Mobium GPS turns your BlackBerry phone into a GPS Navigation system complete with turn-by-turn, GPS guided and voice prompted route guidance. With Mobium you can search a database of 12 million business listings in your vicinity, either by category or by name. You can then immediatly call the listed phone number or Navigate there without having to enter an addresses manually. Save big on GAS With Mobium by searching for the cheapest GAS near you or along your route.
* For USA and Canada only.
* Data Plan recommended.
* BlueTooth GPS receiver required for some phones.
Model:
Blackberry 82XX Series (240*320) Pearl Flip Devices Models: 8200, 8220, 8230/Blackberry 8350i (320*240) Related Devices Model: 8500, 8520, 8530, 9300(Kepler), 9330/Blackberry 83XX Series (320*240) Curve Devices Models: 8300, 8310, 8320, 8330 / Blackberry 87XX Series (320*240) Devices Models: 8700c, 8700r, 8700f, 8700g, 8703e, 8707, 8707g, 8707v .etc /Blackberry 88XX Series (320*240) Devices Models: 8800, 8820, 8830 .etc /Blackberry 89XX Curve Series (480*360): 8900(Javelin), 8910(Atlas), 8930, 8950, 8980/Blackberry 90XX Bold (Onyx) Series (480*320) Devices Models: 9000, 9020(Onyx)/Blackberry 96XX Tour (Niagara) Series (480*360):9600, 9630, 9650(Tour2), 9700(Bold2), 9780 /Blackberry 95XX Storm Series (360*480):9500, 9510, 9520, 9530, 9550(Storm2), 9570(Storm3), 9800(Torch)/Blackberry Pearl 3G Series (360*400) Devices Models: 9100, 9105, 9670(Style)