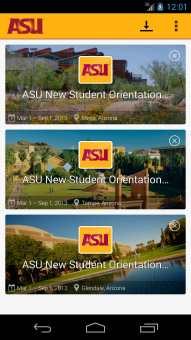 Tag:
ASU Events
Overview :
FREE ASU Events 1.0 FOR blackberry 10 apps
Version: 1.0
File Size: 9 MB
Model: Blackberry Dev Alpha, Blackberry Z10, Blackberry Z15, Blackberry Z30, Blackberry A10, Blackberry Q30, Blackberry Q10, Blackberry Q5, Blackberry P'9982, playbook
Description:
The Guide to Arizona State University has all the information about some of ASU's largest and most important events. Details for many of Arizona State University's events can be found here including New Student Orientation, Fall Welcome, Family Weekend, Convocation and Commencement.
The ASU Guide application allows you to access pre-event and post-event information, directions, information about campus services, and to build your own schedule for the events you want to attend.
Features:
Pre-event and Post-event Information – Allows you to make your own custom to-do list of things to complete prior to events, and after you go home.
Maps – Detailed maps of events and parking information for events a long with driving directions integrated with Apple Maps or Google Maps.
Custom Schedule – Build your own schedule of the events you will be attending with reminders for each event.
Resources – Find information about many of ASU's student and family resources.
Social – stay up to date with ASU on social media through Twitter and Facebook.
Learn more about ASU on our website: asu.edu.