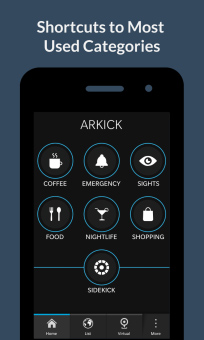 Tag:
ARKick
Overview :
ARKick 2.1 apps for blackberry passport ,Q30
**NEW YEAR DISCOUNT PRICE OF $1.99**
ARKick is your personalilzed contextual Augmented Reality Sidekick.
ARKick is the world's leading contextual Augmented Reality app which helps you find nearby places in the most innovative way ever!
Use ARKick to find places in the camera view based on your context- location, weather, time and also based on trending places near you via our Sidekick Engine.
ARKick Features:
- Easy to use augmented reality experience
- Sidekick Mode- Personalized recommendations based on our contextual engine
- Over 200 different categories of places to select from
- View the categories in a 'List Mode' as well as the default AR Mode
- Multiple selection of categories
- Virtual Location (Experience any place in AR view, without having to go there)
- Shortcuts to frequently searched categories on home screen
- Get detailed information about places (Phone no, directions, address, ratings, etc)
- Get to know the time to reach a place, depending on traffic conditions
- Directly call a place if the contact number is provided
- BlackBerry Maps integration
ARKick Awards:
- Winner of AngelHack Start-Up Asia Pacific Challenge 2013
- People's Choice Award at BlackBerry Jam Asia
ARKick Videos:
- "A day with ARKick": http://goo.gl/bByoVN
- "ARKick Reloaded": http://goo.gl/jbxbXs
Apart from showing places, the user can get information like time to reach the place, directions in a map view, an option to call, ratings and other essential information.
The app works internationally. Optimized for the BlackBerry Z10, Z30, Q10 and Q5.
ARKick is Built for BlackBerry certified!
"The signature BlackBerry 10 experience. Built to keep you moving, apps and games with the Built for BlackBerry designation provide the seamless performance and integrated experience you've come to love. Look for the Built for BlackBerry badge to identify apps and games that deliver the signature BlackBerry 10 experience."
Supported Devices:
BlackBerry Classic
BlackBerry Leap
BlackBerry Passport
BlackBerry Passport Silver Edition
BlackBerry Q10
BlackBerry Q5
BlackBerry Z10
BlackBerry Z3