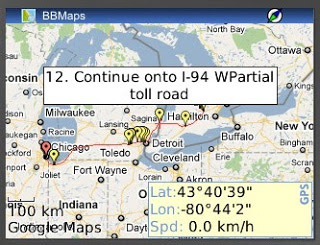 Tag:
BBMaps
Overview :
BBMaps v1.7.1 for os5.0 - 7.x apps -- Maps & GPS Navigation for BlackBerry phone.

Version: 1.7.1
File Size: 271 KB
Required: 5.0.0 or higher
Model: Blackberry OS 7.1 Series: P'9981, 9860, 9850, 9810, 9620, 9360, 9350, 9320, 9310, 9220, 9930, 9900, 9790 / Blackberry OS 7.0 Series: P'9981, 9860, 9850, 9810, 9380, 9360, 9350, 9930, 9900, 9790 / Blackberry OS 6.0 Series: 9800, 9670, 9105, 9100, 9330, 9300, 9780, 9700, 9650 / Blackberry OS 5.0 Series: 9630, 9800, 9530, 9500, 9550, 9520, 9105, 9100, 9330, 9300, 8980, 8900, 8530, 8520, 8350i, 8330, 9700, 9650, 9000


Main Features of BBMaps:
Import/Export Favorites.
Waypoints support for driving directions.
GPS Support with quick refresh (1 second)
Offline Maps using gMapMaker
Online Maps via EDGE, 3G or Wifi.
Google Maps
Yahoo Maps
Windows Live Maps
OpenStreet Maps
Keeps BlackBerry "Backlight On" when driving and locked into GPS.
Exchange your Favorites with GoogleMaps using KML format
Driving Directions and Location Search (Requires internet connection Wifi or Mobile)
Import/Export bookmarks using KML format.
Features on Development:
Save & Load GPS driving route to file.
Save & Load Driving directions to file for offline driving.
Implemented v1.6.4!! Distance & Estimated time calculation for routes.
Implemented v1.6.0!! Allow waypoints for driving directions.
Audible directions.
Implemented v1.6.5!! Autoswitch network interface between wifi and mobile.
Icons and route drawing improvements
Performance Tune
Update hints that can be displayed
Implemented v1.6.3!! Shortcut to fast re-route from current GPS location to destination
Implemented v1.6.3!! Shortcut to quickly calculate directions from current GPS location to any point in the map
Click any point on the map and be able to see geolocation information.
Changelog for Version 1.7.1:
Fixed directions and places search because google removed KML support using URL output=kml.
Small bug fixes.
Important Shortcuts that makes everything easier:
Arrows - move map
# - Zoom in one level
* - Zoom out one level
0 - Track My GPS Location
1 - Previous place on Route
2 - Toggle Display Route/Search Points
3 - Next place on Route
4 - Add favorite at the current position
5 - Toggle joystick mode
6 - View Favorites
7 - Rotate screen
8 - Search Results
9 - Next map type
t - GPS full Screen
y - GPS Overlay
g - Recalculate Route from GPS
h - Calculate Route from GPS to Map Center
j - Search Directions
k - Search Local
l - General Search
v - Route Source
b - Route Destination
n - Add Waypoint to Route
m - Add Destination to Route
Tips:
Internet
By default BBMaps is configured to automatically switch between Wifi & Mobile Network depending on availability, to use only Wifi select:
Settings > Advanced > Append to HTTP Request > ;deviceside=true;interface=wifi
View KML
Open from web address is not working, but open file located on the phone memory works.
Searching Directions and Locations
Sometimes search won't work, it can give the following messages:
No results found.
Google did not understand the places you are searching.
Search result is so big that phone could not process it.
Error connecting or downloading data.
Check your internet connection.
Search server might be offline.
Error understanding downloaded data.
Update BBMaps if this message always appears.
Offline Maps
Tools Required:
Map Creation Tool online application here
gMapMaker Windows application here
Usage:
1.Generate .map file using the Map Creation Tool, click over the map to create a region and at the end press "Generate"
2.Run gMapMaker, select cache folder where map files will be stored on your hard disk and press "GO", select the .map file and wait to finish.
3.Copy generated data to your phone memory card.
4.Run BBMaps on your phone, go to Settings > Map Browsing, check "Stored Maps" and browse your memory card where the maps are located.
5.Go to "Map Types" and "Add Custom Map", at Name put the same name written inside cache.conf
6.Restart BBMaps.