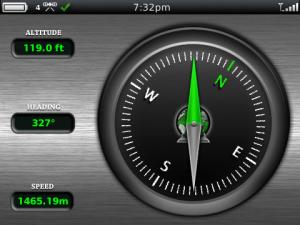 Tag:
QuickFind
Overview :
free QuickFind v1.2 for blackberry apps download
Description:
QuickFind by NikkiSoft is a GPS application that allows you to find previously marked locations such as a parked car, landmark, or an address and is also ideal for geocaching, hiking and fishing. This app will display your location and your target location on a sonar-like display and help you navigate to the destination showing your position, direction, speed and bearing.
Features:
* Voice Turn by Turn Directions
Audible directions to your destination can be read out aloud. Maneuvers will be spoken approx 30 seconds before you reach your next turn.
This feature is available in ENGLISH ONLY currently.
* Compass
Compass mode which will display your heading, speed and altitude.
The altitude is very accurate and automatically uses the latest GEOID correction values. No need to input correction values manually.
* Static Traffic, Satellite, Terrain and Hybrid maps
Static maps can be viewed with different zoom levels and markers for your current position and destination can also be optionally displayed.
* Locations can be added by marking your current location, entering known gps coordinates of a location or performing a lookup by entering an address or landmark such as '241 W. Jackson St' or "Eiffel Tower" or "Oceanside, CA" etc.
* Locations can be mapped using Google Maps or BlackBerry® Maps
* Turn by Turn directions to your destination can be displayed for driving, biking or walking routes and in 9 different languages
* When you approach your destination a configurable alert will go off. You can have several combinations of alerts such as blinking led, audio ping and vibrate.
* Option to keep your backlight on while navigating
* Information can be displayed in imperial or metric format
* Supports Google and Blackberry Maps
See the Demo Video for QuickFind on nikkisoft.com
New Features in v1.2
* Voice turn by turn directions
(currently in english only)
Input 4 digital numbers to unlock it.
Model:
Blackberry 89XX Curve Series (480*360): 8900(Javelin), 8910(Atlas), 8930, 8950, 8980/Blackberry 90XX Bold (Onyx) Series (480*320) Devices Models: 9000, 9020(Onyx)/Blackberry 96XX Tour (Niagara) Series (480*360):9600, 9630, 9650(Tour2), 9700(Bold2), 9780, Dakota, Apollo /Blackberry Pearl 3G Series (360*400) Devices Models: 9100, 9105, 9670(Style)