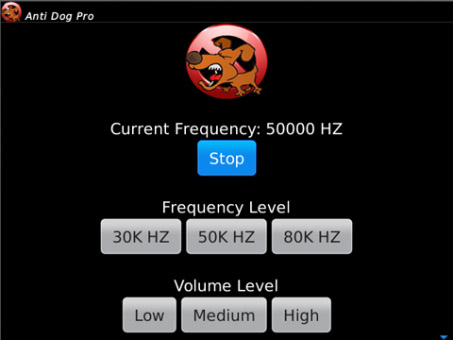 Tag:
Anti Dog
Overview :
Anti Dog Pro 1.0 - Scare Dog and Make It Stops Barking
File Size: 1 MB
Required Device Software Operating System: 5.0.0 or higher

Description:
Anti Dog Pro is an application, which produces dog frequency ultrasound that scare dog and make it stops barking!
By using the Anti Dog Pro, it enables you to train your dogs to be better behavior.
This ultra sound is completely safe from damaging your hearing.
UPGRADES WILL BE ABSOLUTELY FREE!
Different Level of Frequency:
30,000 Hz – Training-Mode Frequency
50,000 Hz – Middle-Mode Frequency and probably annoying for all dogs.
80,000 Hz – Scare dogs and make it stops barking or leave.
Features:
1) Turn on the application to produce frequency ultrasound to scare dog or make it stop barking.
2) Different frequencies of frequency ultrasound are available.
3) Safe from damaging your hearing.
4) No need of any external devices.
5) Volume control for sound frequency ultrasound.
6) Supports for minimizing the application under sleep mode, which keeps working even though your BlackBerry is locked
Note: The application is designed to train dogs to make it better behavior. Please use it on your own RESPONSIBILITY, and please don't provoke or bully dogs. Dogs are our Best Friends.