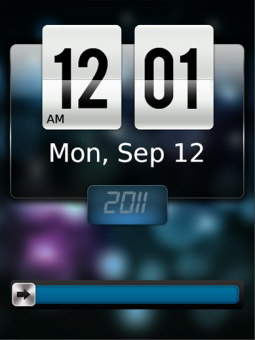 Tag:
Slide Lock
Overview :
Slide Lock 1.3 for blackberry os5.0+ apps
File Size: 324 KB
Required: 5.0.0 or higher
Model: Blackberry 89XX Curve Series (480*360): 8900(Javelin), 8910(Atlas), 8930, 8950, 8980/Blackberry 90XX Bold (Onyx) Series (480*320) Devices Models: 9000, 9020(Onyx)/Blackberry 96XX Tour (Niagara) Series (480*360):9600, 9630, 9650(Tour2), 9700(Bold2), 9780, 9790, Dakota, Apollo /Blackberry 95XX Storm Series (360*480):9500, 9510, 9520, 9530, 9550(Storm2), 9570(Storm3)/Blackberry Torch Series: 9800(Torch), Torch2, 9810, 9860/Blackberry Pearl 3G Series (360*400) Devices Models: 9100, 9105, 9670(Style)/Blackberry 99XX (OS 7.0) Series (640*480) Devices Models: 9900, 9930, 9981

Description:
Three great Slider Lock apps in One and first fully functionally Phone Slider Lock that works with both touchscreen and non-touchscreen.
1) Slider Lock for call connection to prevent your face accidentally pressing your touchscreen and interrupting your phone calls.
2) Backlight timeout Slider Lock works whenever BlackBerry® Backlight is triggered (also when phone is in holster or lock button pressed).
3) Custom idle time Slider Lock for your own fixed amount of idle time to trigger the lock.
Features:
-Slider Lock screen can be unlocked with touchscreen swipe or thumbpad
-Contains large easy to read clock date/time and current call phone number.
-Fully integrated system menu so lock can be trigger at anytime from the menu.
-Works with even all the latest high res screen resolutions.
-Fully customizable through settings screen.
-Enable/Disable any of the 3 Slider Locks or quickly power off the application with one button press.
-Set up excluded apps list. Slider Lock will not trigger while excluded app is open and in the foreground.