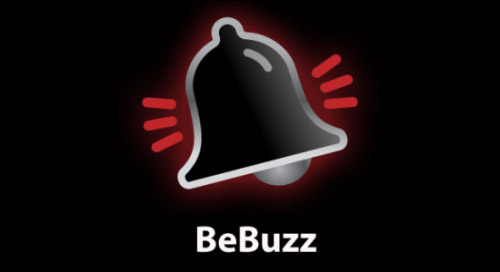 Tag: BB10 BeBuzz LED Light
Overview :
BeBuzz is no stranger for many BlackBerry users, it is a practical application that it adjusts the different LED flashing mode, help the users identify the different application message , BeBuzz launched BlackBerry 10 free version now, of course, if you need ,we have more paid version for you to choose.



Version: 6.0.93

File Size: 642 KB

Required Device Software:

BB10 Smartphone: 10.1.0 or higher

Model:

Blackberry 10 Devices: Blackberry Dev Alpha, Blackberry Z10, Blackberry A10, Blackberry Q10, Blackberry Q5, Blackberry Z30

Description:

Take control of your BlackBerry® front notification LED! Green for calls from your boss, pink for e-mails from your girlfriend, blue for text messages from your kids.

Only BeBuzz adds unique features like Repeating Audible Notifiers, On-Screen Popup Notifiers, Text-to-Speech and Vibrate-While-Ringing.

With more than 35 million downloads and multiple awards BeBuzz is one of the most popular apps for BlackBerry smartphones ever!

*** Featured on the official InsideBlackBerry blog as an AppWorld success story ***

*** Voted #1 BlackBerry App Developer of the Year 2010 by CrackBerry! ***

*** Nominated for the CrackBerry App Award 2010 "Best Utility - OS enhancement" ***

*** 1st app ever to bring customizable LED colors to BlackBerry ***

*** 1st to bring support for LED colors for 3rd party apps ***

*** 1st to bring disco LED colors ***

*** 1st to bring support for LED colors for individual BBM contacts ***

*** 1st to bring unobtrusive "toast" notification popups ***

FEATURES:

- This FREE version is limited to 5 CONTACTS

- Choose from 20 predefined solid LED and 12 rapid flashing DISCO LED COLORS

- Assign colors for E-Mails, SMS and Calls from your FAVORITE CONTACTS, see who it is that is contacting you

- Create an unlimited number of CUSTOM LED COLORS and DISCOS - STACK 2 LED COLORS for even more color variations

- Repeating Notifiers: Keep your phone's audible notifiers repeating until you acknowledge them

- On-Screen Popup Notifiers: Unobtrusive on-screen messages ("toasts") for messages and events

- Text-to-Speech: BeBuzz will read your messages out aloud

- Vibrate-While-Ringing: Have vibrate while ringing for notifiers and incoming calls.

- Vibrate/sound on call connect/disconnect

- Fully customizable and doesn't drain your battery!