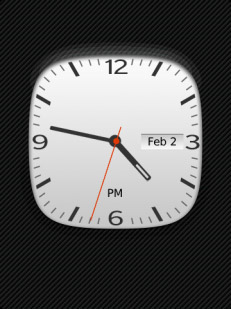 Tag:
BB10
Clock 10
Overview :
free Clock 10 for blackberry 99xx apps(640x480)
size: 1.06 MB
Model:
Blackberry 99XX (OS 7.0) Series (640*480) Devices Models: 9900, 9930, 9981

Full Description:
This is an fantastic app, let's enjoy the BlackBerry 10 Clock on BlackBerryOS as well!
As we know, BlackBerry 10 is a cool innovation, and many modules are incredible! The BlackBerry 10 clock is the most cool clock, so we made it on BlackBerryOS and let it be a screensaver!
☆Features:
✔Top premium design, same as BlackBerry 10 clock;
✔Screensaver and Clock 2 in 1;
✔Looks awesome, cool experiences;
Guarantee satisfaction:
If you find a bug or have a feedback, kindly write email to us, we can assist you well or provide revision asap, because we could not reply App World Reviews. Let's make a great app together! :)