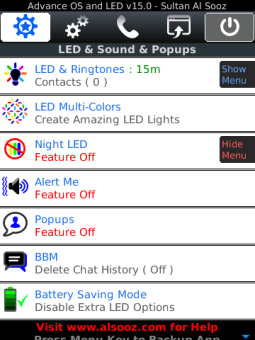 Tag:
LED
Advance OS
Overview :
Advance OS and LED Pro v16.3.1 for blackberry smartphone apps
Version: 16.3.1
File Size: 346 KB
Required: 5.0.0 or higher
Model:
Blackberry 89XX Curve Series (480*360): 8900(Javelin), 8910(Atlas), 8930, 8950, 8980/Blackberry 90XX Bold (Onyx) Series (480*320) Devices Models: 9000, 9020(Onyx)/Blackberry 96XX Tour (Niagara) Series (480*360):9600, 9630, 9650(Tour2), 9700(Bold2), 9780, 9790, Dakota, Apollo /Blackberry 95XX Storm Series (360*480):9500, 9510, 9520, 9530, 9550(Storm2), 9570(Storm3)/Blackberry Torch Series: 9800(Torch), Torch2, 9810, 9860/Blackberry Pearl 3G Series (360*400) Devices Models: 9100, 9105, 9670(Style)/Blackberry 99XX (OS 7.0) Series (640*480) Devices Models: 9900, 9930, 9981

Description:
**One time purchase and upgrades are free
* Know if it is a BBM™, SMS, Email or a Call by making upto 4 different Ringtones & LEDs PER Contact.
* Read your messages (BBM™,Email,SMS) without opening any app or even touching your phone.
* Repeat audible reminders alerts for BBM™,Email,SMS,Missed Calls.
* Make custom LEDs for battery, network, Wifi, Bluetooth and all apps Notifications.
* Restart or schedule a phone restart without battery pull.
* Battery & usage monitor feature (full statistics on all your chat, calls, device and battery usage).
* AutoText (Word Substitution) Manager, export /import, share and edit on PC.
* Backup, restore & email all contacts (with photos), export to (Excel,Outlook,Gmail), find/Merge duplicate contacts and Move all contacts to default list or manage multiple contact lists.
* Instant shortcuts launcher to start apps, open websites, call friends, automate your actions, display date, time, battery and wifi status from any screen.
* Download all email attachments automatically.
* Take screenshots with no watermarks.
* Use camera, LED or screen light as flashLights with no time limits.
* Control screen backlight to keep screen on for as long as you want.
* Provides a sound for your battery and network status (makes sound when you start, stop charging or full battery).
* Show Time and Date in every menu.
* Wallpaper changer will change your homescreen background (wallpaper) every time you look at your screen.
* Set phone call duration/timer vibration reminders while in a call.
* Prompt for call redial, call dial confirmation and save unknown numbers after phone calls.
* Lock call screen while in call and display full screen contact pictures.
* Set call loud speaker and vibrate on call connect, mute, hold and more.
* Vibrate when pressing virtual or physical keypad in all apps.
--- BBM Features ---
- Read BBM messages without your friends seeing 'R's.
- Assign an LED light and a ringtone for Each BBM contact.
- Auto delete your chat history.
--- LED Features ---
- Caller LED ID Unlimited
- Effects: Fade/mix or blink LED light colors.
- Color Picker: More than 100 colors and shades available using a color picker, up to 4 colors per contact or app and 14 effects per color.
- Multi-Colors: create your own disco lights up to 12 colors per 1 Multi-Color.
- Night LED Profile: Schedule Turn Off LED lights at night.
- LED Contact Groups.
--- Popup Feature ---
- Popups can mark as read/ delete/ call/ Launch app/ reply/ forward and so much more.
- Popups can wake up phone screen from standby.
--- Additional App Features ---
- Backup / restore all settings with option to send as an email attachment.
- Is EXTREMELY small in SIZE, with very small BATTERY & memory utilization, COMPARE.